Award-winning face-to-face software.
The perfect software for successful street, event, and door-to-door campaigns.
Compatible with


THROUGH & THROUGH
By fundraisers. For fundraisers.
TOMORROW IN MIND
Future Proof Face-to-Face:
We keep your data safe with ISO-certified servers in Europe, SSL-encrypted data transfer and GDPR-compliant data anonymization for added security.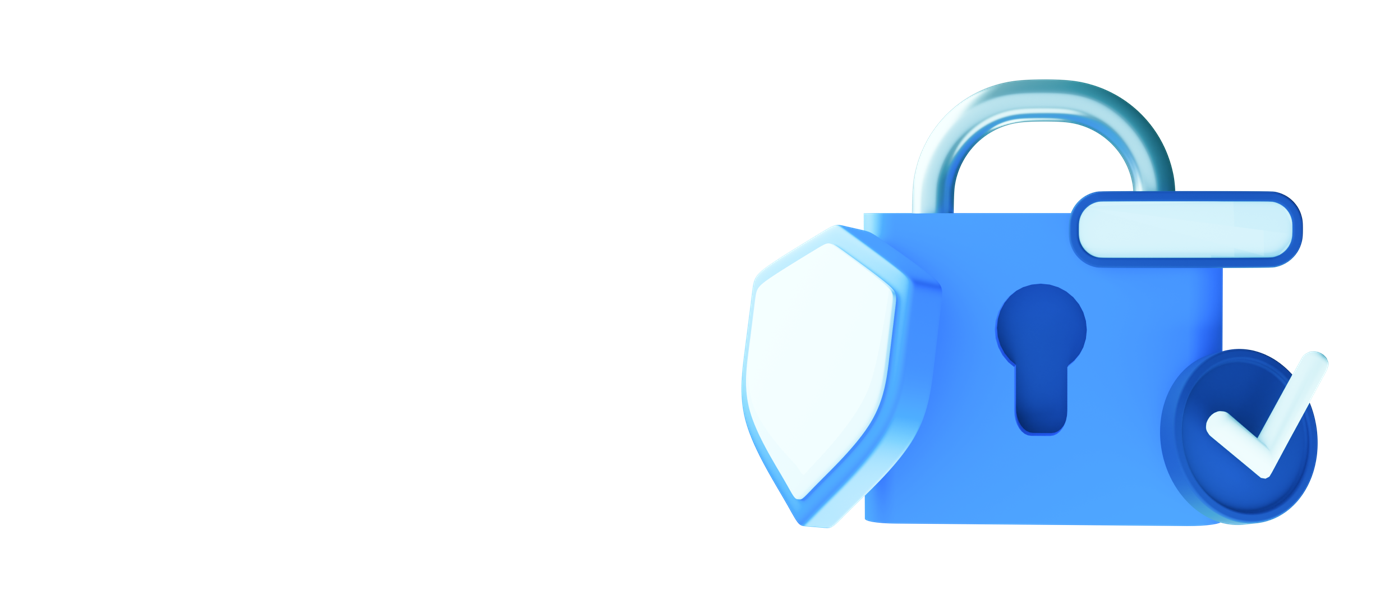 Enjoy seamless payment integrations, including SEPA Direct Debit, Credit Cards, Google Pay, and Apple Pay
Unlock the power of data-driven insights through performance tracking and business intelligence.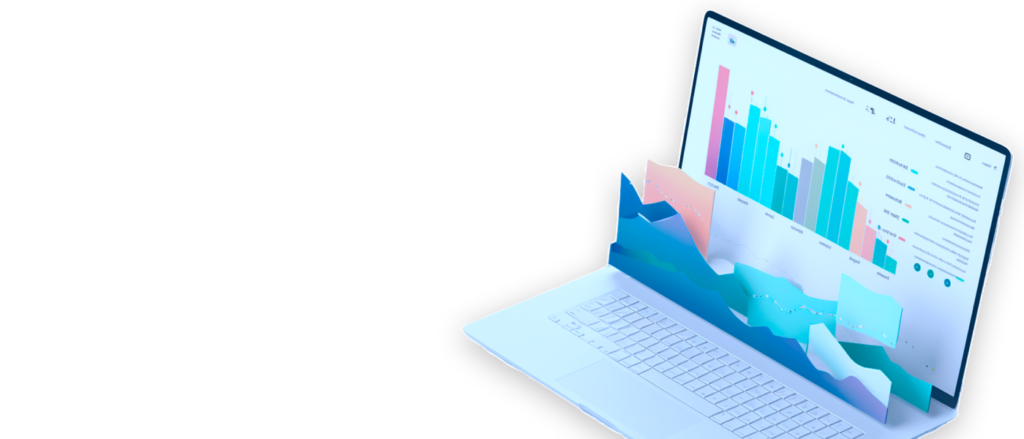 Unlock the full potential of your digital forms with our advanced API integration. Connect and synchronize your data in a wide range of formats ensuring a seamless workflow and efficient data management.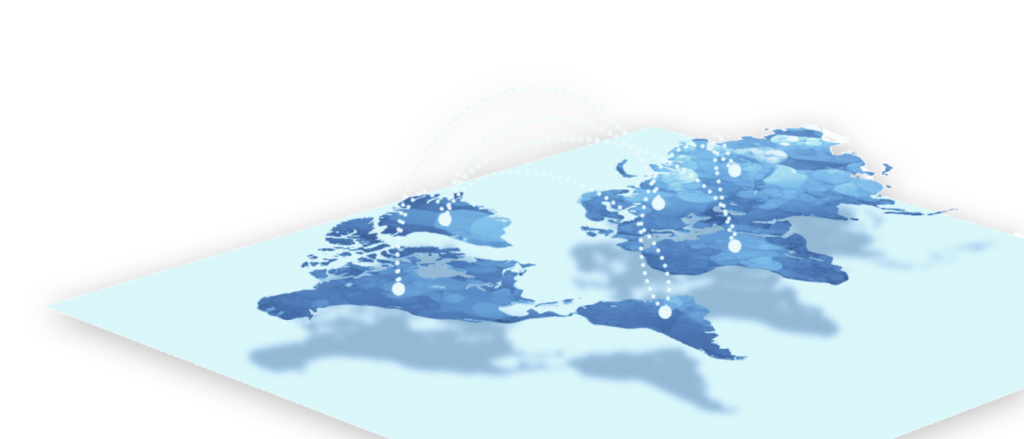 TAILORED. ASSISTED. CONNECTED.
Customization, Support and Communication:
CUSTOMIZABLE FORMS
Your donors and fundraisers will love the new smooth sign-up process of our campaigns. Create personalized donation experiences and increase donor engagement. Some say that there are as many ways to customize our form as there are stars in the universe.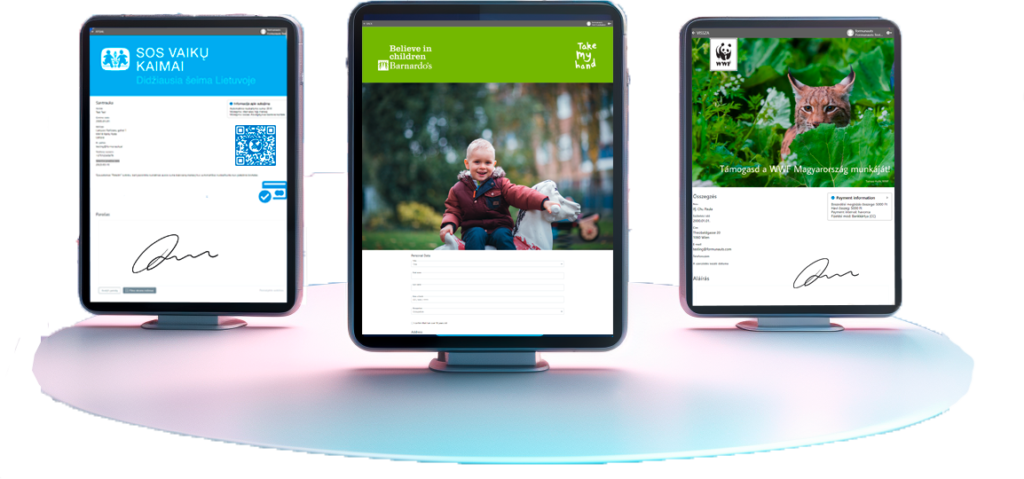 CUSTOMER CARE
Our dedicated customer care team is the core of everything we do. Experience unparalleled support and guidance throughout your fundraising journey, ensuring the success of your campaigns and the satisfaction of your donors and fundraisers.
MESSAGING
Enhance your donor relationships. Send personalized welcome emails to your supporters, creating a warm and engaging connection from the very start.
FUNDRAISER MANAGEMENT
Efficiently plan, execute, and monitor campaigns, ensuring a seamless experience for both fundraisers and donors alike. Take control of your fundraising success with streamlined tools and insightful analytics.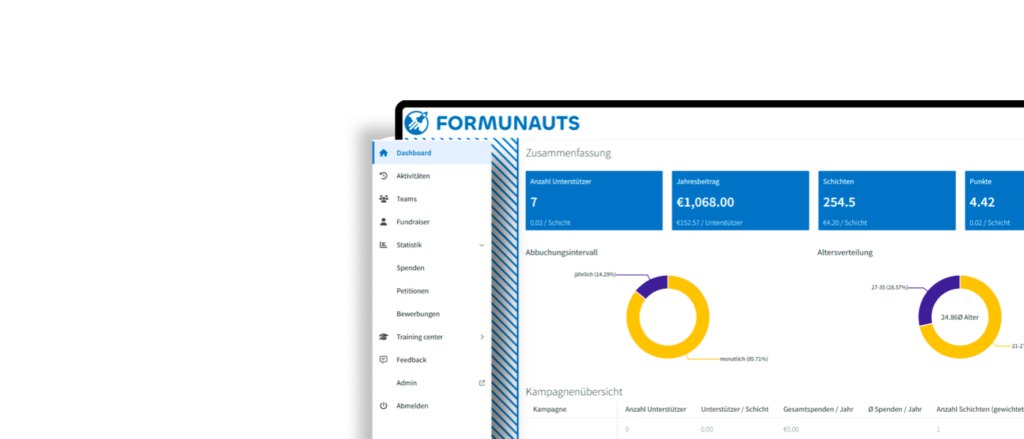 KEEPING IT GOING
Engage & Motivate:
DONOR FEEDBACK
Designated to enhance the quality of your campaigns and create happy donors and fundraisers! With more than 98% of donor feedback receiving a 4 or 5-star rating, you can confidently boost team motivation and cultivate strong relationships with your supporters.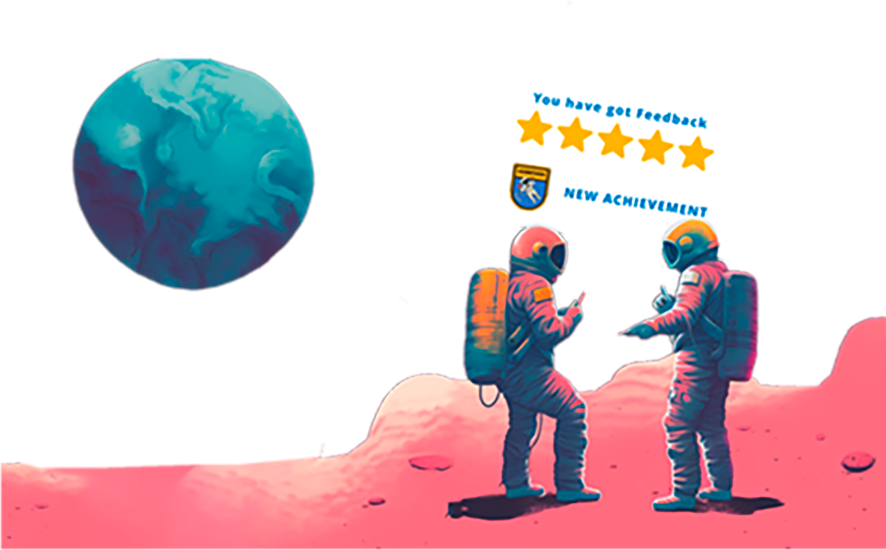 GAMIFICATION
Create personalized achievements that perfectly align with your corporate identity, inspiring your teams to reach new heights. Immerse yourself in a fun and dynamic environment that boosts performance and fuels success.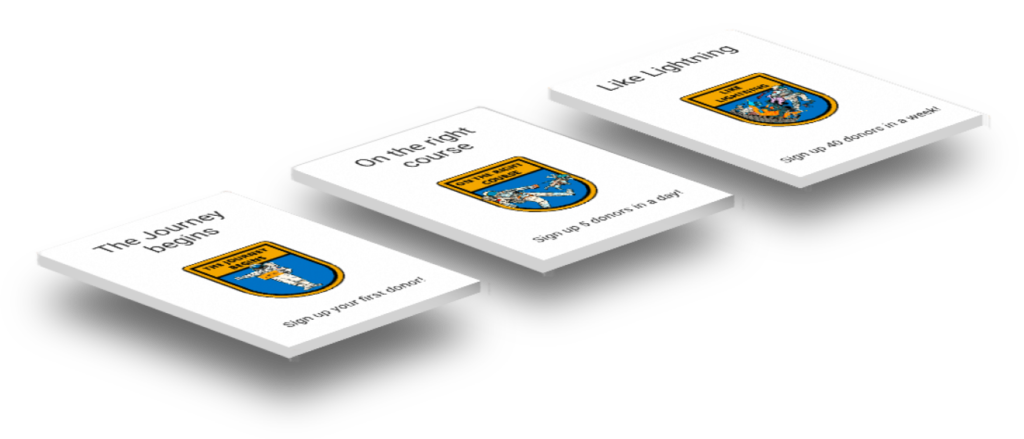 PITCHDECKS
Utilize our visually stunning and interactive pitch decks to captivate your audience and effectively communicate your message. Boost engagement with personalized welcome emails that leave a lasting impression.
REFERRAL MARKETING
Our Referral Marketing feature enables you to optimize your team's recommendations and attract exceptional fundraisers. Benefit from a Direct Recruiting Dashboard and Reporting for easy tracking.
ENSURING EXCELLENCE
Compliance & Quality:
TRAINING CENTER
Ensure that your teams are always up to date by creating engaging training sessions! Develop interactive lessons and quizzes with multimedia elements that fundraisers enjoy learning with!

WORKFLOW
If you like repetitive tasks - this one isn´t for you! Our workflow functionality allows you to solve tasks automatically. Instead of going through every data set by hand, just set a rule based on your criteria and lean back!
PHOTO VERIFICATION
Ensure your fundraisers are ready for action at their location. This simple check-in process allows team members to take a selfie, confirming their presence and readiness to make a positive impact.

DATAFLOW
Keep your data clean with our data cleanser tool, automate essential tasks through workflow automation, and ensure seamless integration with call centers and CRMs using automated exports and imports via APIs, XLS and more.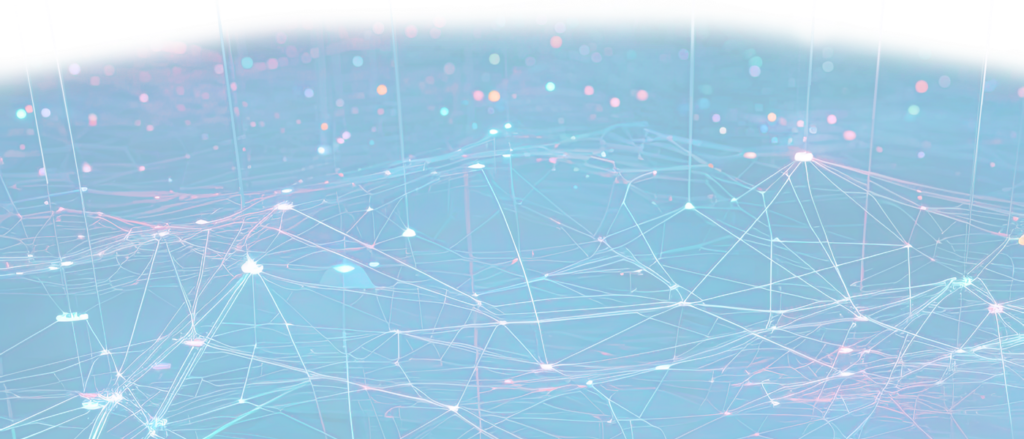 VALIDATION
Say goodbye to bad data quality! Our real-time validations ensure that you always get the best data.  Enjoy working with correct phone-numbers, emails, addresses, bank accounts, etc. 
LEVEL UP
Boost your success and maximize your efficiency with Formunauts.
Contact us today to find out how our powerful products can help your fundraising breakthrough!
Testimonials
Just listen to them: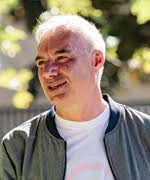 We are working with Formunauts One (FO) on a regular giving campaign extending after an initial pilot. They are really committed and took a lot of time and effort to understand our cause and how best to convey our impact. Impressed with their responsiveness and the quality and passion of the fundraisers on our campaign. FO are innovative, dynamic and great to work with you. Proactive, very engaged and always keen to learn more about Contact's work and how best to engage potential donors.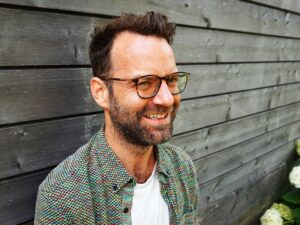 Reinventing Face to Face is not possible. But with the Formunauts as a professional, inspiring partner, reshaping the Face to Face fundraising future is possible! With creativity and innovative spirit, to reach a new level of professionalisation so that the full Face to Face potential can unfold. Together as architects of the future. These are the Formunauts.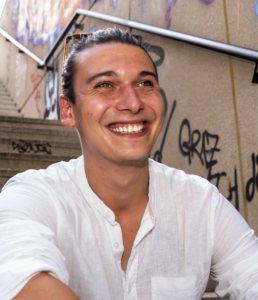 Sustainability and innovation are crucial factors in today's economy, especially in fundraising. As stakeholders with societal impact, we bear the responsibility to develop forward-thinking solutions and be pioneers for change. The Formunauts Marketplace provides an outstanding platform for networking, transparency, and collaboration. Together we are one!